Purple Ceramlub®

Moly is good... but Ceramic is better!

Brake Noise

O.E. Approved Purple Ceramalub® 2800°F
#1 Choice of Professional Brake Technicians
around the world!


Brake Noise
Year, after year, after year !
The largest number of wins for brake lubricants for the history of this contest. We are most proud of the fact that the votes come from technicians actually working in the brake industry. It proves the product works and is the most popular in the world.

You will Stop Brake Noise, Guaranteed!

Are you ready to move up to the latest technology in brake lubricants? Do you want to give your customer a permanent lubricant that actually outlasts the quality brake job you are installing on his vehicle? Do you want to follow the lead of OEM manufactures?

If your answer is yes, then forget standard greases, your company is ready for Ceramic Lubricants!

GWR's Extreme High Temperature "Real Synthetic" brake lubricant contains unique, proprietary Ceramic Pressure Solids and elevated concentrations of Anti Corrosive Agents. Ultimately, it's the most advanced lubricant in the world... yet costs no more than lower temperature, lower solids content brake greases like Permatex, AGS, Stalube, Squeakrelief, Sylglide, or the others sold by competitors!

Please let GWR introduce you to the future in brake lubricant. The number one ceramic formulation for over ten years is light years ahead of the "old fashioned" lubricants most companies are currently packaging in tubes, tubs or pillows for new pad sets. More incredibly though, you pay no more for this "new technology" than what you currently pay for outdated, old fashion, low temperature products like Silicone or Teflon or even the copy cat products popping up on the marketplace. Move up to the highest quality available worldwide, give your customers what they deserve!
The Only "OE Approved" Real Synthetic tm Ceramic Brake Lubricant !


If your tub does not have Ceramlub® in it,
your not putting Ceramic Lubricant on it! sm
Shipments of Purple Ceramlub® 2800 , based on our extremely sophisticated and proprietary formulation, are available in pillow bags for pad manufactures and our heavy duty, dual lined tubs for shops. Ask your local undercar distributor for GWR's Ceramlub®2800 by name (pronounced Sir-ram-lube)... the purple labeltm and purple lubetm inside insures a new pad set won't "come back" with a "costly" problem. You help yourself and also give your valued customer "the best brake service possible"... we guarantee it !!!

Because there are 100's of lubricants on the U.S. market, many types have found their way into our brake industry and are now common place. Therefore, it follows, confusion would exist as to what is the "right" product for metal parts, or rubber parts, or plastic parts, or spindle faces, etc. Well, does it really matter? Technicians, distributors and pad manufactures may not think so but be aware lab testing has proven that choosing the wrong product for day to day brake service "causes expensive comebacks". That eventually costs everyone involved! Don't be a victim one day longer, switch to GWR's Purple Ceramlub® today!

Check the base of the name brand of lubricant you now use, we guarantee you will be surprised! Owners and technicians are always shocked to find that their "favorite" greases are actually recycled motor oil or low temperature Silicone. If it claims to be a "Synthetic" brake caliper lubricant, check the MSDS and you'll find it's mentions crude "used" motor oil (petroleum). If they claim "it's the perfect prescription for brakes" and brag about a 580º temp rating, they better go back to Med school and do some more research. If its Silicone based, they have zero solids and only a 400ºF max temperature rating so it melts out and contaminates friction surfaces at base operating temperatures. There is only one choice , as the major professional brake manufactures have determined... Purple Ceramlub® 2800.

Purple Ceramlub® 2800 is the finest quality, extreme pressure, highest temperature rated, quietest brake lubricant in the world... shouldn't you be using it on every brake service?

Petroleum or Silicone Based
(Non-Boundary)
GWR's Synthetic Based Ceramlub®
(Boundary Type)
Don't continue to hassle with pads returned for brake noise complaints! Simple specify what is now recommended and specified by more and more O.E.M. Brake and Vehicle manufactures... a Heavy Solids Based, Real-Synthetic, Dry-Film, Boundary Lubricant. Please call our offices to find out more about this revolutionary new product and how it will improve the brake pad you sell and or the replacement service you offer. We have programs for manufacturers, WD's, Jobbers and Local Service Centers through a half dozen international distribution sites, please contact us for more information on obtaining this revolutionary product.

TESTING:
Many different tests have been done on Purple Ceramlub®, please find below three that represent the typical results when it is compared with other options. (Please note that these particular tests were performed by a certified, independent laboratory by one of the largest OE pad manufacturers in the world.)
Ceramlub, Ceramlub-2800, Ceramlub Purple and Purple as a color for Ceramic Lubricants are all TM's of GWR, Subsidiaries and our Parent Company ©2004-2013


Laboratory Certified Proof that Ceramlub® is...
far superior to Silicone type lubricants!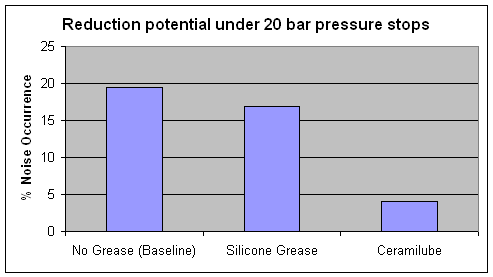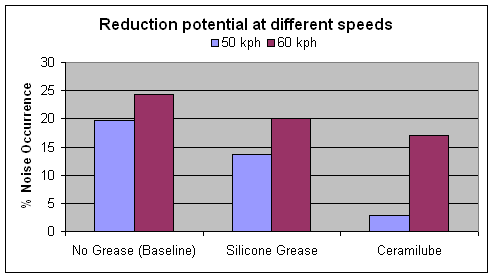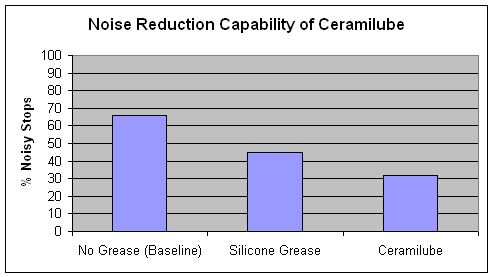 Want to Stop Brake Noise, Guaranteed?

Important Legal Disclaimer:
Permatex's Ceramic Extreme Lubricant and others now appearing on the marketplace are not manufactured by GWR AUTOMOTIVE Co.
They are unauthorized, plagiarized copies of Purple Ceramlub® and technically inferior based on volume of structural content. If someone tries to sell you a Ceramic brake lubricant and it is not the original Purple Ceramlub® 2800, then you are not getting what your are paying for. Call us with any claims by competitors and we will send you a sample of the original "Real Synthetic" High Performance Purple Ceramlub® formulation, so you can feel the difference and not short change your customers.
---